Welcome
The European Low Gravity Research Association (ELGRA) is a non-profit international society devoted to the promotion of scientific research under various gravity conditions in Europe. The organization, established in 1979, provides a networking platform for all scientists interested in life and physical sciences and technology in space or on ground. ELGRA aims at representing and strengthening the scientific community of gravity-related research and helping young scientists and engineers get involved in low- and hyper-gravity research through educational programs.
The members and the addressees of ELGRA are:
Scientists at universities working in µg
Scientists of non-educational research organizations working in µg
Space science managers at national and international agencies (e. g. ESA, CNES, DLR)
Flight opportunities and operations managers and engineers (e. g. ESA, NASA)
Upcoming payload providers (e. g. Space X)
Engineers and business developers of Space Industries (big and small ones)
For more information:   http://esaconferencebureau.com/2017-events/17a02/home
ELGRA/ESA Gravity-Related Research Summer School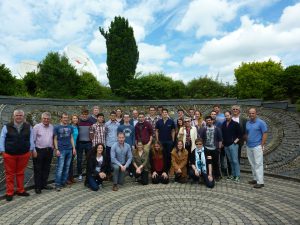 The first edition of the ELGRA/ESA Gravity-Related Research Summer School took place from Monday June 27 to Friday July 1 in the ESA Academy's Training and Learning Centre located at ESA Redu centre in Belgium.
The objective of the summer school was to promote gravity-related research amongst future scientists and engineers and attract them to its multiple research opportunities available in the space sector. Twenty-two bachelor and master students from nine European countries attended the lectures on physical science, life science, and human physiology given by ELGRA and ESA experts.
ELGRA wishes to continue this fruitful collaboration with ESA Education in future editions of the Summer School as well as in other projects.